How to Create an Effective Digital Customer Service Strategy
Here is everything you need to know about moving to digital customer service, as we help you to put together a strategy to make a smooth transition.
The Evolution of Digital Customer Service
Over the past ten years contact centres have been adapting to the idea that customers like to use a number of different channels, yet organizations are strategically challenged to keep pace with customer behaviour.
"When we take on the task of digital transformation, we are making significant changes to people, processes and technology."
With customer behaviour changing faster than ever, when we take on the task of digital transformation, we are making significant changes to people, processes and technology.
For years, contact centres only had to deal with calls and maybe a few letters. Then there was email, but by 2010, organizations were using social media, live chat and SMS messages as well.
At first, we rushed to install these channels to meet changing customer expectations, but we did so in silos, i.e. so each channel is disconnected from the others.
This meant that we couldn't easily handle issues like channel duplication, which is when a customer contacts you through every channel possible to get the quickest answer. So, we were technically answering the same query multiple times, sometimes with different answers.
Other issues with multichannel customer service included:
difficulty in tracking the customer's interaction history across channels
difficulty in moving the conversation over to another channel and maintaining context
difficulty in adding other technologies, such as artificial intelligence (AI), because customer data is stored within numerous systems
With these multichannel problems, we could not provide the best possible service to customers, so when brands choose to move to digital customer service, they now tend to opt for an omnichannel approach.
What Do We Mean by Omnichannel?
In 2018, ContactBabel reported that 30% of contact centres have switched to omnichannel, and if we want to achieve the best possible digital service, this is where we need to get to.
An omnichannel contact centre offers a choice of channels, but the relevant information follows the customer across channels and interactions, so we retain the full history and context of the customer's initial enquiry.
"An omnichannel contact centre offers a choice of channels, but the relevant information follows the customer across channels and interactions, so we retain the full history and context of the customer's initial enquiry."
However, this can be quite hard to achieve because, according to ContactBabel's report:
55% of contact centres have a technology platform that does not support a single view of the customer
17% of contact centres have business processes that are siloed and separate
13% of contact centres have insufficient budget to carry out the required changes
This final point highlights the fact that even though technology has reduced the need for CAPEX spend, there's still that "change factor" for the IT department to consider in order to sufficiently resource and fund the move.
Where Should You Invest?
Now we have an omnichannel goal in mind, we need to think about where we should be investing our budget to gain maximum return on investment (ROI).
The graph below contains data from a 2017 Deloitte benchmarking report, in which they asked contact centre practitioners: where will you get maximum ROI?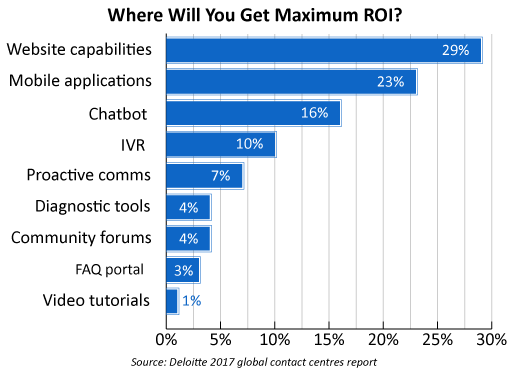 With these results in mind, let's take a closer look at the first two areas for maximum ROI, website capabilities and mobile applications, and identify where we can improve. But while the research suggests that these two areas provide the biggest possible gains, this may not be the case in your own digital strategy. If so, you should perhaps focus on one of the other, more appropriate, areas presented in the chart above.
Website Capabilities
To boost our website capabilities, we need to understand the customer journey and how customers are getting to our site, whether that is mobile, a desktop application or through a tablet. How easy is it for them to find us?
"You've only got 10-15 seconds to first engage with that customer. So the landing page and design is very important for that first impression."
Then, we need to think about the customer's experience when they are on our site, and the thing to remember here is that you've only got 10-15 seconds to first engage with that customer. So the landing page and design is very important for that first impression.
This is according to Paul Weald, the Director of MCX, who says: "While organizations may invest heavily in SEO (search engine optimization), if you don't give an immediate comfort factor when someone engages with your site, you will likely lose them."
Then, when customers come to the site for customer service, we need to make it simple for them to find the answers to their particular questions.
If the customer is looking for something that they'll likely need human support with, we also need to enable easy contact deflection to the most appropriate channel for their query type.
Supporting Mobile Customers
Mobile is now the main channel of choice, and Google research found that 73% of consumers will switch from a poorly designed mobile site to an alternative mobile site that makes purchasing easier.
This research highlights the need to understand the balance between what our customers want and what we can deliver, as consumers can be very unforgiving.
So, we need to get the basics right and focus on how we can better support customers while they are using our mobile site and the tools we use to do that.
But when they asked contact centre professionals how support is currently provided for their mobile app users, ContactBabel in their 2018 report found some surprising results:
74% provide a telephone number
59% provide an email address
42% provide a hyperlink to the full website
34% click-to-chat
22% request callback
17% click-to-call
Many of these percentages were lower than expected, including the click-to-call and click-to-chat options, which is disappointing because these are the only two options in which we can retain the context of what the customer is looking for.
"However, if you offer click-to-chat and click-to-call links, you can actually retain that understanding. So, if they're logged on to your app through an ID&V process or by using their thumbprint, you know who that customer is, what they've been looking at and how you route them."  Paul Weald
Paul adds: "If somebody moves from the mobile app into one of these other channels, you can't then retain an understanding of the steps that the customer has taken previously."
With this capability you can potentially also move them to the front of the queue and screen-pop the customer's record on the advisor's screen, when they answer the call/chat.
This is just one example of how you can improve functionality for mobile users, but doing your own research into how customers are using your app will also give you many more ideas.
How to Retain Context Across Channels
By having click-to-chat and click-to-call links, we can carry context across channels, and ideally we want to find many ways to do that, so we can retain context throughout the customer journey.
Luckily, mobile is now the channel of choice, and if the customer has used an app to make contact with us, we can instantly gain each of the following bits of information.
Customer identity: App users have already ID&V'd
Geographical information: smartphones are GPS-enabled
Historical activity: customer browsing info is available
The other interesting scenario is when the mobile device can be used by the customer to collect information that can be used by your organization.
"With a mobile, customers can do things like take photos and forward those to the contact centre, scan QR codes and use virtual IVR systems – each of which helps us to collect useful information."
These are all key functionalities that are available through the mobile device and they are a great way to make the customer journey more effortless, while better equipping advisors.
Business Outcomes
If we can create an omnichannel strategy that makes channel deflection simple while finding ways to retain the context of the customer journey, we can expect to see a number of key benefits.
If we just take the example of using an app with click-to-chat and click-to call functions, we can achieve the following business outcomes:
Better Customer Experience – With improved routing accuracy, due to the retained context of the customer journey, enquiries get to the right advisors who can resolve the issue first time.
Lower Costs – As we can pass contextual data to the advisor, we can decrease call handling times, which will lower our required headcount and therefore costs.
Higher Customer Satisfaction – As a result of lower customer effort, we can improve customer satisfaction by making things as easy as possible.
So, we're on the right track by aiming for an omnichannel strategy that we have optimized through improving our mobile and website functionalities. But we are missing one key part of our strategy: choosing the right channels?
Which Channels Should You Offer?
Over the past few years, you will have likely had to make a decision about whether or not you implement any of the following three channels and how you do so.
SMS – Should you be using this channel to send proactive outbound communications?
Live Chat – Should you be using this channel to provide the customer with extra support while they are on your site?
Messaging – Should you be using asynchronous chat to interact with customers via an application of their choice?
There's certainly a lot to think about when answering these questions, as we focus on the necessary people, process and technology considerations for choosing a channel.
Fortunately, Paul has provided us with a decision-making framework to use so we can better consider whether or not it is time to provide customers with another channel choice.
In the framework below, which takes the form of a number of questions, we need to think carefully about each of the criteria:
From what devices can a customer access the channel?
Is there a record of the conversation?
Does the organization know if the customer has seen the message?
How much time might a conversation take up?
Is it attractive for digital natives?
Is it attractive for high-net-worth segments?
Are there technical barriers for an organization to integrate the channel?
If you are confident that you can answer yes to each of these questions, you then need to map out how the customer journey will look across the channel for each query type. This is to make sure the customer has an easy experience that fits your brand values.
When you do this, you should also be thinking about which query types are best suited to the channel and how easy it is for customers starting their journey to access that channel.
In fact, there are a number of key considerations that you need to make, so be sure that you familiarize yourself with the content of the table below.
| | Text Messaging | Sync Messaging | Async Messaging |
| --- | --- | --- | --- |
| Access | Mobile only | Mobile & desktop | Mobile & desktop |
| Conversation type | Simple & structured, e.g. please complete this survey | Potentially more complex & unstructured | Simple but unstructured |
| Comms audit trail | Yes | Upon request at end of chat | Yes |
| Platform | Generic SMS | Business website initiated webchat | Third-party messaging app e.g. WhatsApp |
| Confirmation that message has been read by customer | No | No | Yes |
| Session length | Short | Potentially long | Short but could involve multiple threads |
| Integrated calling | Via number included in the message | Only when initiated by agent | Yes – by customer or agent |
| Click-through rates | Low to medium | Medium to high | Medium to high |
| Attractive to millennials | Partially | Partially | Fully |
| Attractive to baby boomers | Fully | Partially | Partially |
| Business integration costs (technology) | Medium | Medium to high | Low to medium |
| Channel growth potential | Low | Medium | High |
Paul, who put this table together, adds: "One key factor that we too often overlook is the growth potential for each channel, as you want to invest in something that's going to move with the times."
"So, it's also good to think about if we should wind down some of the other channels that we currently support. Perhaps turning off live chat when appropriate and moving everyone through to asynchronous messaging."
Just remember, there is never a perfect answer in terms of which channel to use. You need to think carefully about the characteristics of the media, how customers will access it and the type of market that you address.
In Summary
In the past ten years, we've seen an influx of new channels emerge throughout the contact centre industry. However, when first installing these new channels, many of us kept these channels in isolation from one another, taking on a multichannel approach.
If we want the most effective digital strategy, we need to move towards omnichannel customer service, where we link these channels together so that relevant information follows customers across channels.
This enables us to provide better service in a number of ways, so we want to have an omnichannel focus when considering the areas in which we need to invest to improve our digital service.
If that is by improving mobile applications, it is good to install click-to-chat and click-to-call links where relevant, as we can gain useful info, in terms of customer identity, geographical information and historical activity, which we can pass on to advisors.
Then, once we've considered how we can retain context across channels, we can think about whether it would be good to include a new channel within our digital strategy.
To do this, you can use Paul's decision-making framework, thinking carefully about the characteristics of each channel and the type of customer demographic you are aiming to address.
Source: https://www.callcentrehelper.com/create-digital-customer-service-strategy-146090.htm